As summer comes to a close and the season changes we say a sad farewell to summer and children everywhere gear up for a new year of school, with new teachers, new friendships and new challenges that await them. Times of change are an exciting time for children, but also a stressful time.
A great way to help young children through these changes is to read books and stories about returning to school and to reminisce on the exciting summer adventures. Stories about the changing season, school days, and new friends can help ease kids into the school year. You'll find some of my back-to-school favorites below, including stories that celebrate joyful, welcoming schools, and memories of summer fun. These are some great picture books that your children will love and are being offered as free downloads on August 21st and 22nd in celebration of the new school year.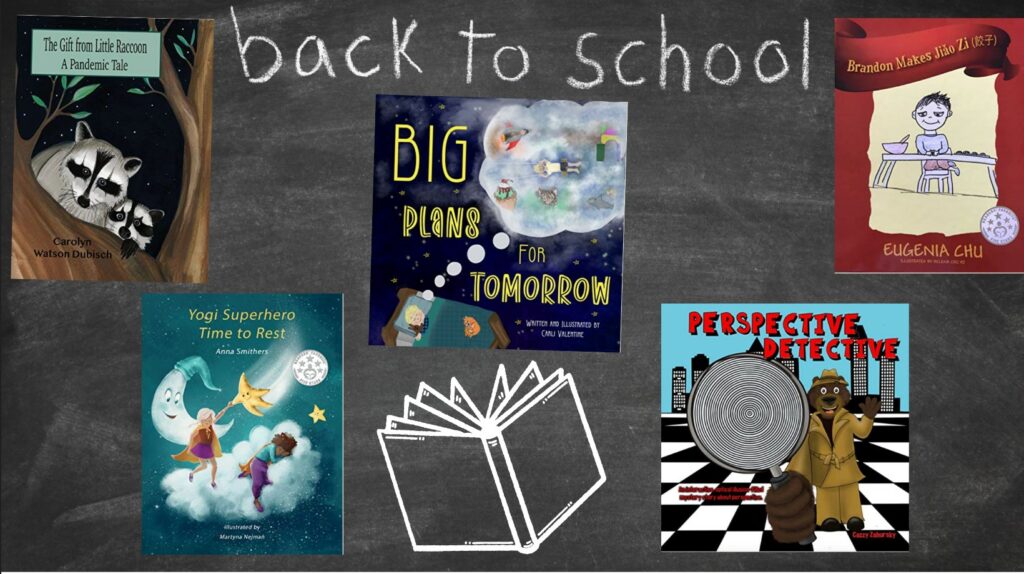 Perspective Detective
By Cazzy Zahursky
This wonderful picture book is also a mystery and a lesson on changing your perspective to better understand each, an invaluable skill when it comes to navigating new friendships. The story is of the search for a lost teddy. The mystery unfolds slowly through the story and the author includes themes of problem solving, learning to communicate and empathy. With the rhyming text and optical illusions worked into the illustrations, this book is such fun your child won't want to put it down!
Big Plans For Tomorrow
By Carli Valentine
Instilling a sense of wonder and excitement for what is next is central to parenting small children. In this charming story, a little boy is preparing for bed and with his mother imagining the coming day. His fantasy takes the reader from deep in the ocean to the zoo to outer space! A lovely picture book to read aloud with illustrations that kids can relate to. Perfect for bedtime or anytime.
The Gift From Little Raccoon: A Pandemic Tale
By Carolyn Watson Dubisch
Children will love this heart-warming tale of kind hearted animals that bring gifts to a little girl who is stuck at home through the pandemic. They watch her attend school online, something kids today remember and dreaded. This story is full of wonderful animal illustrations that bring the story to life. Children will really relate to Little Raccoon and the theme of empathy and understanding is a key skill when it comes to navigating a new school year with new friendships and old ones.
Yogi Superhero Time to Rest: A Children's book about Yoga, Mindfulness and Relaxation.
By Anna Smithers, Illustrated by Martnya Nejman
The value of meditation for children has proven to reduce stress and anxiety and increase focus and prolong attention span, all incredible and important skills in the classroom. This book is full of wonderful illustrations that draw the reader in, while the text helps to center and help the reader to relax. In truth this book should be on the shelf of every classroom.
Brandon Makes Jiǎo Zi (餃子): Chinese American Children's Book
By Eugenia Chu, Illustrated by Helena Chu Ho
When Brandon's Grandma visited from China he was SO excited. Together they make Chinese dumplings together, Brandon's favorite food! This book includes Chinese characters and food and introduces children to some Mandarin words in the glossary in the back. Multicultural books are so important to share with children of all ages, especially as they return to diverse classrooms and make new friends. This wonderful little book is a great addition to any child's bookshelf.
Grandma, It's Me!: A Children's Book about Dementia
By Y.Y. Chan, Illustrated by Pearly L.
Written in a clear concise way this book addresses dementia for young children. This can be a devastating disease and is handled with great care by the author. This book teaches valuable lessons in caring for the elderly as well. A really heartwarming and inspiring book for young readers. The illustrations help show a loving family and are expertly done. Another book to introduce children to different families and different family situations as they return to school.
All in a Flap: Children's Book to Encourage Growth Mindset, Creativity and Adventure
By Francesca Watt
Another wonderful animal story. Arnold and Lou lived in the forest in Peru. They are an adorable duo of an anteater and a frog. This little book takes the reader from a rainforest to outer space to the eiffel tower and everywhere in between as they dream of where they would fly if only they could sort out how. With wonderful and amusing illustrations this book opens children's eyes to the wider world and entertains with their antics of attempted flight. Spoiler alert; they do manage to see the world but not quite from the air. A wonderful adventure book.
Granny Got a Sprout Stuck Up Her Sneezer
By Becci Murray
Another hilarious children's book from Becci Murray. Poor Granny gets a sprout stuck up her nose and her frighteningly inept family comes to the rescue. The cartoon illustrations just add to the humor perfectly and kids will love having it read aloud. This is honestly a book that should already be on your child's bookshelf. Nothing eases the anxiety of returning to school like a good laugh!
Learning Colors: (Early Learning with Rosy Ladybug)
By Marcella Brué- Lotz
As the youngest students prepare for their first year of school, this book is perfect for getting a leg up. Rosie Ladybug and Mrs Honeybee teach readers their colors in a creative and entertaining way. The story is quite engaging and the illustrations are charming and the activities in the back of this book really help cement the lesson presented in the main text. It's fantastic when educational storytellers create books that make learning so much fun.
Sally and Kate Learn About Preschool
By Sarah Taber, Illustrated by Ghrish Vindhy
Another excellent book for children who are just starting school from the Adventures of Sally and Kate series by Sarah Taber. Sally and Kate are nervous about starting preschool in the next year so Kate's mom arranges for them to visit school for a day to learn all about it. The two best friends spend the day learning new things, making new friends and learning new rules. The art by Ghrish Vindhy is excellent and helps to keep children engaged in the story. A wonderful book to help lessen the anxiety of starting something new.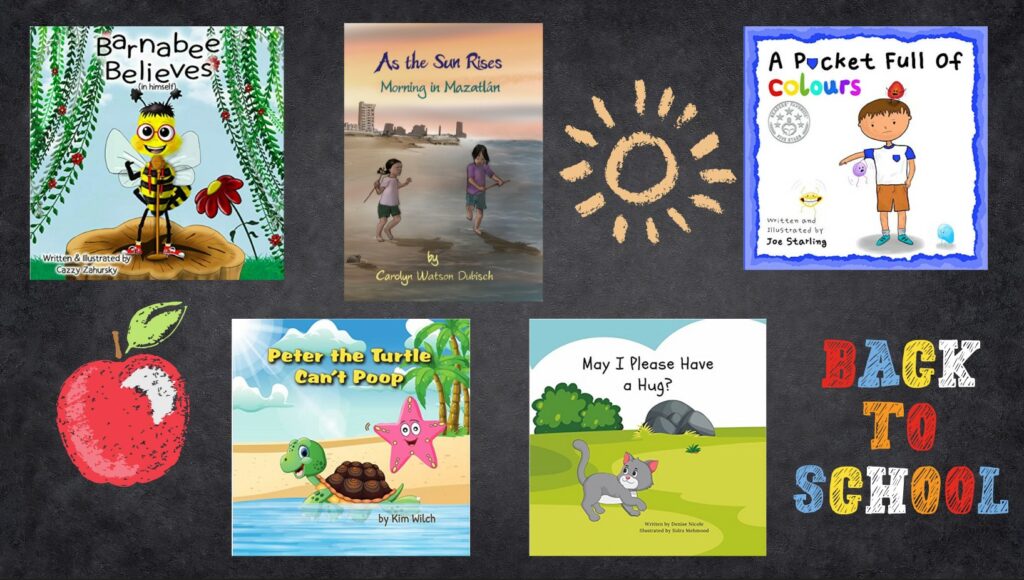 Peter the Turtle Can't Poop: A funny story about protecting the environment
By Kim Wilch
After Peter the Turtle finds things on the beach that he thinks is new and interesting food but it turns out is discarded trash, he finds he has a not so funny problem. Told in verse this funny little book addresses the very serious problem of beach trash and encourages children to be helpful and kind. As the summer comes to a close, and beach days become school days, this book shares an important lesson about cleaning up after yourself and recognizing that we share the beach with many other creatures.
Barnabee Believes (in Himself)
By Cazzy Zahursky
Barnabee is chosen to represent his class in the school spelling bee but he freezes when he must face the class and spell during practice. He tries many. Many things to face his fears (and his bullies) and in the end he learns to "beelieve" in himself. Such a great story for children about facing down anxiety and stage fright. The illustrations are wonderful and bring the story to life. A great confidence building book and is perfect for young children and early readers as well.
A Pocket Full of Colours
By Joe Starling
The story of a boy named Sam who has a pocketful of colors. Each color symbolizes a different emotion and are called into action as feels his feelings. Sam is a sensitive kid so there is a lot of action. His younger sister and her friend cause him a great deal of anxiety when they play and wreck his toys. Fortunately his Mom is very good at helping him manage his colors. The book ends with a lesson in forgiveness which makes it an excellent tool for preparing children as they return to their studies and interact with their peers. Simple and clean illustrations work wonders for this important message of patience and understanding.
May I Please Have A Hug?
By Denise Nicole, illustrated by Sidra Mehmood
Everyone could use a hug sometimes. Join Charlie, the little gray cat as he searches for kindness in the animal kingdom. FIrst he encounters a squirrel who is not so keen to hug a cat, the birds are not interested, and the other cat he found is more interested in finding dinner. Charlie does find his hug in the end however, from a big golden retriever. The illustrations are quite good and the value of being kind and supporting others can't be encouraged enough. A great book for young children.
As The Sun Rises: Morning in Mazatlán
By Carolyn Watson-Dubisch
The perfect book to say farewell to summer. This picture book will bring you all the way to a beach in Mexico. Juan and Maria wake up before sunrise to go to the beach with their father. Their father gathers shellfish on the beach in Mazatlán, Mexico. The children encounter various sea creatures and as the sun rises more and more vendors and tourists make their way to the sandy shore. The illustrations are vivid and excellent, and in the back you'll find recipes for ceviche and chilaquiles, two of the dishes the children shared with their family. A wonderful window into Mexican culture.