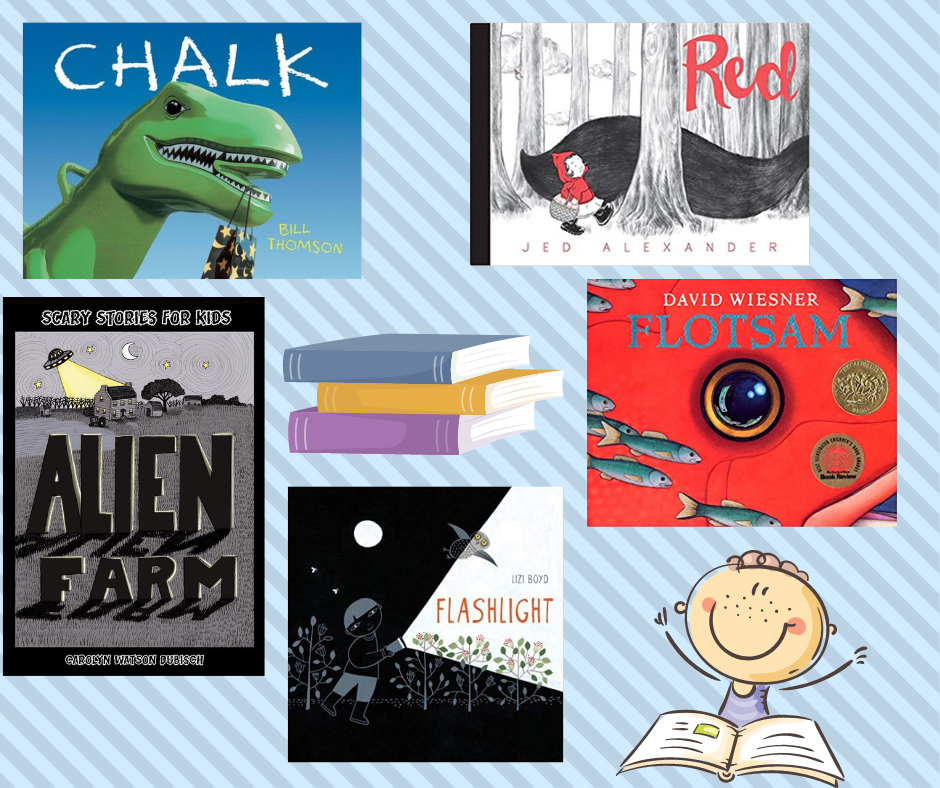 Wordless picture books are a terrific and fun way to teach children about story structure and are a truly wonderful way to get struggling readers and ESL students excited about books. Children carefully study the illustrations and their faces just light up as the story just comes to them. The stories are very clear as the artists always use a beginning, middle and end format to create these often beautiful masterpieces. These books are some of my favorites and have truly magical stories within.
Alien Farm; Scary Stories For Kids
By: Carolyn Watson Dubisch
Genre: Fiction, Fantasy
Age Level: 6-9
Reading Level: Beginning Reader
UFO's appear in the night over a farm and beam animals aboard their craft. First the sheep then the pigs and even the raccoons lurking in the corn. The aliens are sufficiently creepy and they circle the farm house. The farmers awake and chase off the aliens and check their farm, only to discover the animals have been changed in strange ways. Illustrated in black and white with yellow accents, this book is a great one for kids who like a scary story. Perfect for Halloween this year.
Flashlight
By: Lizi Boyd
Genre: Fiction
Age Level: 3-6
Reading Level: Beginning Reader
A young boy on a camping trip explores the woods in the dark with his flashlight. He discovers fish in the pond, a deer, an owl and even strawberries. Then he trips and falls in the woods and loses his flashlight in the dark. Suddenly the flashlight is in smaller, furrier hands. The animals shine the light on him in a comical series of images. Illustrated mostly in black and white with limited color this is a wonderful and clever story.
Chalk
By: Bill Thomson
Genre: Fiction, Fantasy
Age Level: 6-9
Reading Level: Beginning Reader
Three children discover some abandoned chalk in the park one rainy day. As they begin to draw they find that their drawings of butterflies literally fly off the pavement. The sun and even a dinosaur come to life from their images. A beautifully illustrated tale of magic and imagination and a clever story. Perfect for kids who love dinosaurs and budding artists.
Red
By: Jed Alexander
Genre: Fiction, Fantasy
Age Level: 6-9
Reading Level: Beginning Reader
Based on the tale of Little Red Riding Hood, this wordless book is definitely worth your time. The story is quite different from the traditional one and the addition of a surprise party for Red is great fun! The illustrations are truly remarkable. Using only black and white drawings with red accents this book is wonderfully engaging and just perfectly executed.
Flotsam
By: David Wiesner
Genre: Fiction, Fantasy
Age Level: 6-9
Reading Level: Beginning Reader
Through beautiful watercolor illustrations we follow the story of a boy who discovers a camera washed ashore on the beach. Being an "old fashioned" camera he brings it in to get the photos printed and discovers a world from deep in the ocean that he'd never imagined. A magical and creative story kids will love.